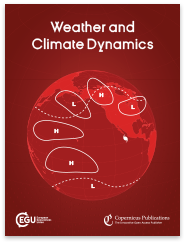 Executive editors: Camille Li, Stephan Pfahl & Heini Wernli
eISSN: WCD
2698-4016
, WCDD
2698-4024
Weather and Climate Dynamics (WCD) is a not-for-profit international scientific journal dedicated to the publication and public discussion of high-quality research on dynamical processes in the atmosphere. It represents a timely effort to establish a seamless perspective on atmospheric flows, on scales from weather to climate (minutes to decades). The scope of the journal includes the following: the dynamics of extreme weather events (case studies and climatological analyses); weather system dynamics in tropical, midlatitude and polar regions; interactions of atmospheric flows with cloud physics and/or radiation; links between the atmospheric water cycle and weather systems; tropical-extratropical and midlatitude-polar interactions; atmospheric teleconnections and stratosphere-troposphere coupling; boundary-layer dynamics and coupling to land, ocean and ice; atmospheric variability and predictability on time scales from minutes to decades; storm track and Hadley cell dynamics; role of atmospheric dynamics in paleoclimate and climate change projections; and other aspects of weather and climate dynamics. Theoretical studies, idealized numerical studies, full-physics numerical studies, and diagnostic studies using (re)analysis and/or observational data are welcome.


























All EGU highlight articles

Notice on current restrictions
To show our support for Ukraine and in accordance with current European sanctions, we have introduced a range of measures relevant to our open-access publications process.
All fees for papers from authors (first, corresponding, or contact authors) affiliated to Ukrainian institutions are automatically waived, regardless of if these papers are co-authored by scientists affiliated to Russian and/or Belarusian institutions. The only exception to the waiver for Ukrainian authors will be if the corresponding or contact authors are from a Russian and/or Belarusian institution, in that case the APCs are not waived.
Due to restrictions for authors from Russian and Belarusian institutions that are necessary to comply with European sanctions, we recommend any authors from institutions in these countries to contact us on editorial@copernicus.org for more information.