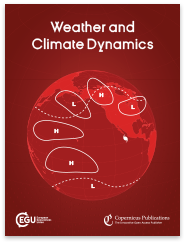 Executive editors: Camille Li, Stephan Pfahl & Heini Wernli
eISSN: WCD
2698-4016
, WCDD
2698-4024
Weather and Climate Dynamics (WCD) is a not-for-profit international scientific journal dedicated to the publication and public discussion of high-quality research on dynamical processes in the atmosphere. It represents a timely effort to establish a seamless perspective on atmospheric flows, on scales from weather to climate (minutes to decades). The scope of the journal includes the following: the dynamics of extreme weather events (case studies and climatological analyses); weather system dynamics in tropical, midlatitude and polar regions; interactions of atmospheric flows with cloud physics and/or radiation; links between the atmospheric water cycle and weather systems; tropical-extratropical and midlatitude-polar interactions; atmospheric teleconnections and stratosphere-troposphere coupling; boundary-layer dynamics and coupling to land, ocean and ice; atmospheric variability and predictability on time scales from minutes to decades; storm track and Hadley cell dynamics; role of atmospheric dynamics in paleoclimate and climate change projections; and other aspects of weather and climate dynamics. Theoretical studies, idealized numerical studies, full-physics numerical studies, and diagnostic studies using (re)analysis and/or observational data are welcome.
Recent papers












Highlight articles




















News
27 Jun 2023
Referee nomination improved
To offer our journal editors a better service and an improved experience in our online system, we have significantly improved the referee nomination tool in our review system Copernicus Office Editor. Experience more and take a look.


12 Jun 2023
Enhance your peer review skills with the EGU training in September/October!
Looking to gain experience and boost your confidence as a referee? Apply for the EGU peer review training, and gain valuable insights into the peer review process. EGU is offering FREE online training in which you'll learn about the role of peer review in the publication process, in addition to review criteria and open peer review, and get hands-on experience in writing reviews. To find out more and apply, visit https://www.egu.eu/news/967/egu-peer-review-training-workshop-apply-now/.

14 Feb 2023
Journal website facelift
In the coming days and weeks, readers of our journals will experience a facelift of our websites. Read more about the background.